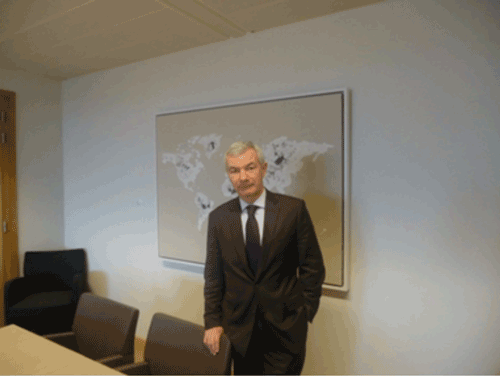 Dirk ACHTEN is the Secretary General at Federal Public Service Foreign Affairs, Foreign Trade and Development Cooperation for the Kingdom of Belgium. Prior to his appointment, he also served as Chief of Staff of the Ministers (2004-2007) and Director-General Bilateral Affairs (2007-2009). Mr. ACHTEN studied politics and law at the University of Leuven and is a graduate of the Harvard Kennedy School of Government where he studied international relations and National Security.
His motivations for studying in the US:
After my studies at the University of Leuven, I worked as a journalist and wrote extensively on policy matters. Given the strong relations between policies and foreign affairs, I became interested in complementing my first degree by gaining an international experience. At the time, there were not a lot of opportunities so the United States seemed to be the obvious choice. Now, there are many more opportunities for studying abroad including programs such as Erasmus.
What attracted him to Fulbright:
I heard about Fulbright from a friend who had just returned from the US as a Fulbrighter. He was very pleased with the program and advised me to apply. I went down to the Fulbright Office and after conducting research, I was seduced by the amount of opportunities that Fulbright offered.
Studying at Harvard:
Studying at Harvard was 'the most interesting experience of my life'. I found the teaching methods particularly challenging. There was lots of preparation involved (more than in Leuven) and the whole class was expected to discuss issues that I had never properly thought about (e.g. the 'national interest of the nation'). I also believe that American universities (especially elite universities like Harvard) encourage 'creative thinking', which is something I enjoy particularly.
Relevance of mutual understanding among nations in the context of Foreign Affairs:
Mutual understanding is very important in international relations. When a country is faced with an issue, each country tends to have a different understanding of the issue in question. This is because 'each country is a product of history'. When you understand history, you understand why a country is acting in a particular way. A good contemporary example could be found with China.
— Jack Verbruggen