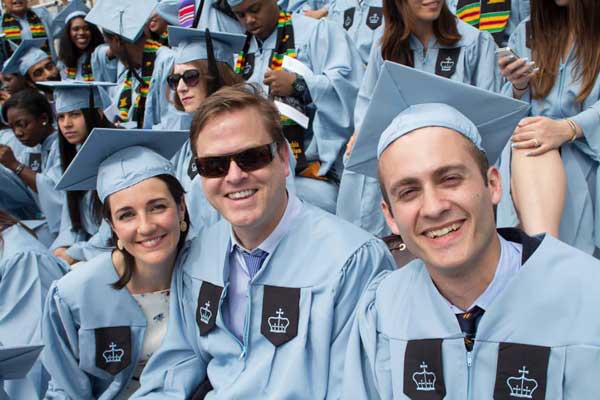 As I look back at the year I have spent in the U.S., I am filled with memories and gratitude. Thanks to the Fulbright program, I was able to pursue a Master's degree at the Columbia University Journalism School in New York City – without a doubt one of the best journalism schools in the world.
The class of 2014 was the first to go through a program the school had just revamped in order to adapt the profession to an ever changing environment.
It now feels like I went through a 10-month sprint. On the one hand, the program was intense – yes. But, on the other, I also quickly understood that the workload was directly proportionate to what a student wants to invest, in terms of time and energy. As this was the chance of a lifetime, I wanted to invest all I had.
I worked really hard, and I did my best. I think my efforts were rewarded: I was amongst the few students of the class who graduated with honors.
I believe I achieved my three objectives. I received the honors in the Audience and Engagement class, with The Guardian's Emily Bell and The New York Times' Margaret Sullivan. I also honored in my Conflict Reporting class. As I was part of the Toni Stabile Center – the special investigative unit at Columbia – my master's thesis had to be an investigation. For 10 months, I looked into quality flaws in the U.S. military gun parts supply chain. I learned tremendously and made enormous progress under the supervision of Reuters' Duff Wilson. I was able to show that the Pentagon sent defective gun parts to soldiers at war, while awarding contracts to problematic manufacturers. For this investigation, I received the honors, as well as the Richard Blood Award for excellence in reporting.
Although I was offered a room in school housing, I'm happy I made the choice to turn it down. Instead, I decided to live with two American veterans who were studying with me. This turned out to be an excellent opportunity to really get to know the American culture, through long conversations, everyday life, and – of course – parties. We were fortunate enough to have an apartment with quite a spacious living room, my two roommates and I, with a great sound system and an impressive collection of vinyls. One of my two friends was also a talented cook. The parties we through were for me the opportunity to get to know the American culture, in its many aspects.
The whole experience was unforgettable and I am very grateful to the Fulbright program. I will of course keep in touch with my U.S. friends: This past year, and what we've been through together created strong bonds. Now back in Belgium, I was invited by IHECS to give a summer class in investigative journalism. I'm looking forward to other opportunities to share my grant experience.
As for my future plans: I have been hired by Conflict Armament Research as a field investigator. I will be working on mapping the flow of weapons to and from conflict zones, mainly in Africa.
– Damien Spleeters
Graduation ceremony:

Find out more about Fulbright grants for Belgian journalists: http://www.fulbright.be/awards/grants-for-belgian-citizens/journalists/