The first semester is over and winter has finally arrived in New York after spending a Christmas Eve with 21°C. With temperatures dropping below 0°C and I realized what a good investment my warm winter coat was because it is definitely indispensable.
The fall semester went by so fast, I cannot believe it has already been five months since I arrived in the US. My studies at Columbia University are great, I loved my courses and learned a lot the last couple of months. I really enjoyed participating in different Fulbright events: not only had I the opportunity to meet Fulbrighters from all over the world, but also the chance to engage in an enriching conversation with the Vice-Chairman of Morgan Stanley.
I spent my first Winter break away from home and had a very international Christmas and New Year's Eve with my friends from all over the world here in New York. It is nice to spend some time in the city without having to think about readings and assignments. The last weeks of the fall semester were quite stressful because of my exams and papers. I went for example to the ice skating rink in front of the Rockefeller Center.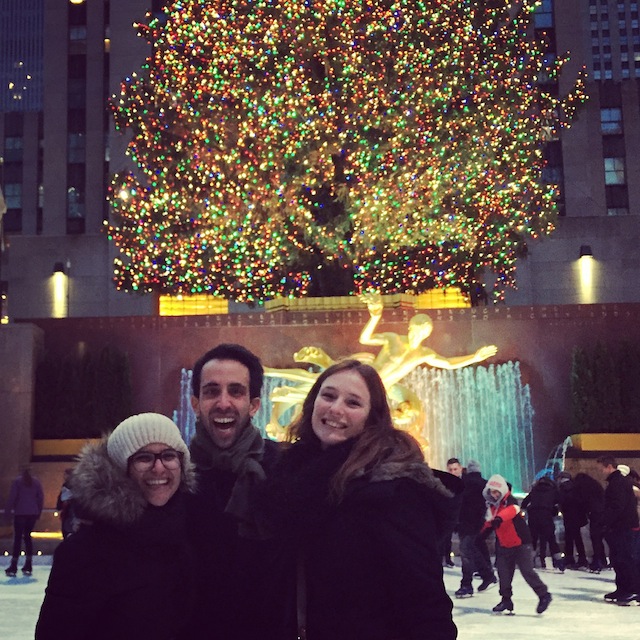 Furthermore, I try to take advantage of the winter break to not only explore New York but also discover other parts of the United States. The bus system on the East Coast makes it pretty easy to get around. I spent three days in Philadelphia between the holidays and I especially enjoyed the excellent food there. As every good tourist, I visited the Rocky steps at the Museum of Art. What struck me the most is the quietness of Philly as compared to New York, no constant car honking, which was nice. I guess the after-Christmas atmosphere was also a reason why it was quieter than in New York, because Philadelphia is nonetheless is the fifth biggest city in the US in terms of population.
I will go on a short trip to Miami in mid-January with two of my fellow Fulbrighters whom I met at my Gateway Orientation in Delaware last August. We are all studying in New York and kept in touch even though we are not enrolled in the same universities. Fulbright definitely helps building new friendships.
The second semester is just around the corner and I am looking forward to more adventures here in the US.
– Laure Kieffer
2015-2016 Luxembourg Fulbright Grantee