Eat&Meet with Prof. Petra De Sutter
December 9, 2019 at 12:00 pm

-

2:00 pm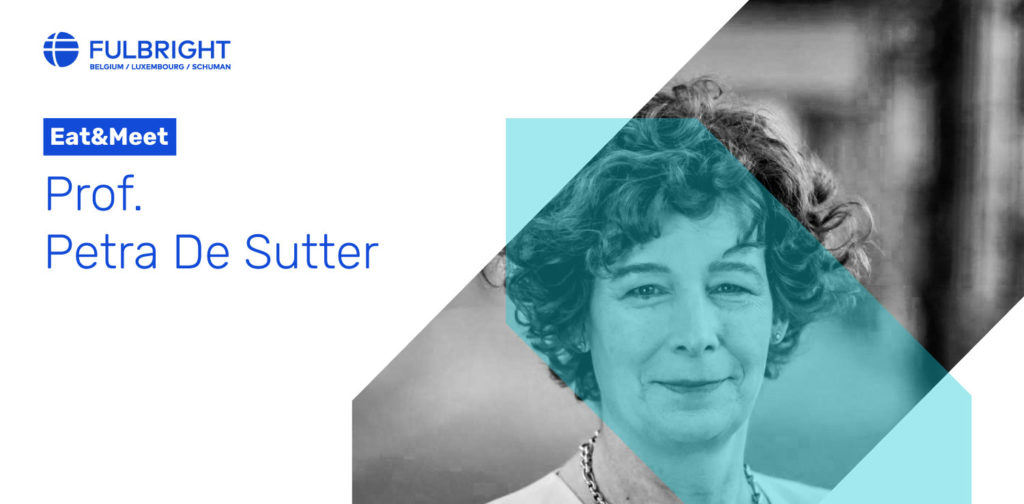 We are excited to announce our next Eat&Meet with Prof. Petra De Sutter, Professor in Gynaecology, Department Head at the Ghent University Hospital, Senator for the Flemish Green party Groen and Fulbright alumna.
A healthy and social just society: that is what Petra De Sutter is committed to every day. As a gynaecologist and fertility expert, she has been confronted with the harmful effects of chemicals on our health. Her indignation about this brought her into politics in 2014. Five years later, she represents the Flemish Greens in the European Parliament and is the first green chairwoman of the Committee on the Internal Market and Consumer Affairs.
"I have a very strong sense of justice. That is my motivation to work hard every day."
Since 30 years Petra De Sutter has been pointing out the health risks of endocrine disruptors. She defends the sexual and reproductive health and rights of girls and women, and engages in bio-ethical discussions such as surrogacy and commercial egg donation. In addition, she is committed to a more social Europe and the protection of refugees and LGBTI people. In 2019 she moved from the Belgian Senate and the Council of Europe to the European Parliament. Her authentic style and extensive knowledge make that she is respected and trusted across different political parties.
Eat&Meet's are business lunches hosted by leaders in different professional areas who are former grantees of the Fulbright Program to talk about their background, career path and share their Fulbright experience in the U.S. Both current Fulbright grantees and alumni will get the opportunity to ask questions, build their network and expand their knowledge within U.S.-Belgian relations after returning from the U.S.
BY INVITATION ONLY: Rsvp to events@fulbright.be